Introducing: TimeWise Repair Volu-Firm Sets
Restore what was lost and lift away the years!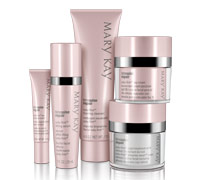 Product Price: $199.00
Each TimeWise Volu-Firm Set product is specifically formulated to combat a wide variety of signs associated with the skin's aging. They are designed to work together to help maximize the anti-aging benefits. Formulated for customers who are already experiencing the advanced signs of aging will love these innovative products formulated to work together beautifully.
See Before and After
After using the TimeWise Repair™ regimen†, there was a noticeable decrease in the look of deep wrinkles (shown in purple) and fine lines (shown in blue) across the forehead.
     
For best results, they should use the set twice daily. Reduce the look of deep lines and wrinkles. Restore lifted contours and Recapture youthful volume. 
Volu-Firm™ Night Treatment With Retinol
TimeWise RepairTM is backed by the most comprehensive testing of any new Mary Kay(r) product to date. More than 65 clinical, consumer and safety studies involving more than 3,000 panelists were conducted on the Volu-FirmTM Regimen and individual products, and the results speak for themselves.
 Based on a 12-week clinical study+, an independent skin measurement expert saw these significant changes:
91% had less noticeable deep lines and wrinkles
86% had skin that looked lifted
98% had less under-eye puffiness
93% had more even-toned skin
Based on a 12-week clinical study+, these significant improvements were measured after women used the regimen:

40% improvement in skin firmness
58% improvement in skin elasticity
+Results based on a 12-week independent clinical study. The percentages reflect the number of women who agreed with the statement.
Women Love TimeWise Repair™ Set!
"Excellent products! I received many compliments on how improved my skin looked."  Jane C., Rye, N.Y.
"I really enjoyed using the products. They erased the years!" Bonnie B., Scarsdale, N.Y.
"I love the products. They helped rejuvenate my skin, and any wrinkles seem diminished." Zenny O., Carrollton, Texas
Just follow the simple instructions below.
Complete and enclose this form in an envelope, along with a copy of your proof of purchase (copy of invoice/billing statement with a screen shot or print out of the product you ordered, or a billing statement clearly indicating your purchase) and mail to Attn: Ivonne Manning, P.O. Box 1972, Atlanta, GA, 30301
Valid through 12/31/2014
Offer only apply to online purchases

Call me at 

678-851-5716

  or

place your order on this site:Website:  

bit.ly/1g2QJ0i

Tags: